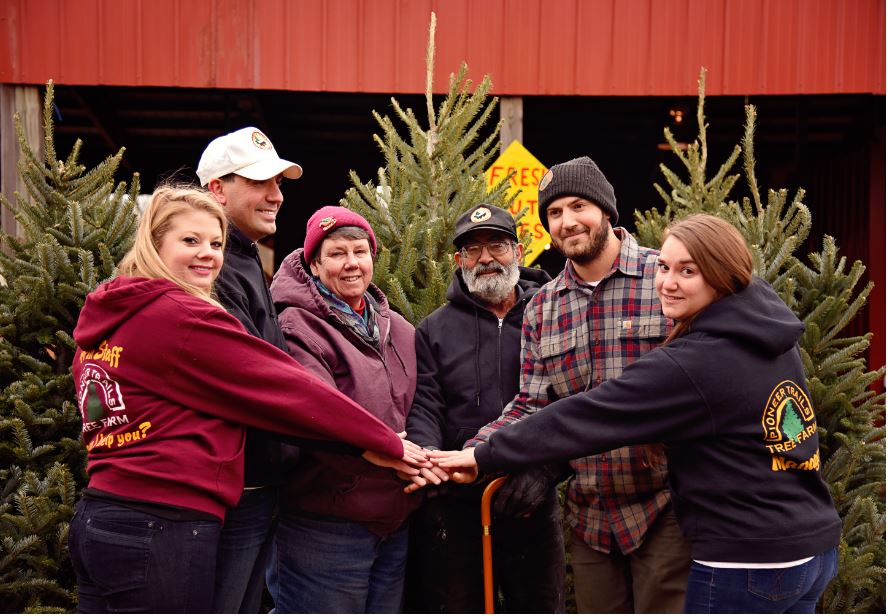 OUR MISSION
Pioneer Trails Tree Farm is a destination for families to create lasting memories. Our farm family works year round to provide quality trees, products and experiences for your family.
Frank and Mary Jan Perdulla have farming in their genes. Frank was raised on the land we now know and love as Pioneer Trials, and Mary Jan comes from a long line of Christmas tree farmers in Ashtabula, Ohio. Frank and Mary Jan were married in 1983, and they planted their first trees that year. The Perdullas are members of the Ohio Christmas Tree Association and the Northeast Ohio Christmas Tree Association, where they learn about changes in the industry and techniques to maintain a healthy farm that continues to thrive over the years. The farm wasn't the only thing that grew over the years: Frank and Mary Jan have three children, Charles, Matthew, and Amy, and together, the five Perdullas expanded and improved the tree farm over the years. Charles and Amy now co-runs the farm with Frank and Mary Jan, and although Matthew has another career, he still is engaged in the beloved tradition of helping on the farm during the holiday season. Pioneer Trails Tree Farm loves keeping up the tradition of creating a memorable farm experience that centers on family.
Pioneer Trails' traditional harvest-your-own tree sales began in 1990, and we proudly added the sale of landscaping trees in 1996. Our hope each year is to have thousands of beautiful trees from which families can choose. We currently have over 35 acres planted in evergreens! The best compliment families share with us is "There were so many perfect trees to choose from!"
The Pioneer Trails Tree Farm Scholarship Fund was added in 2016. It is an opportunity for the Perdulla family and customers to contribute to the community. The Pioneer Trails Tree Farm Scholarship Fund raised $2,500 during the 2020 Christmas season. This provided funds for scholarships at Poland Seminary High School, Boardman Local Schools, and Lowellville Local Schools. In 2021, our goal is to raise $3,000 for the PTTF Scholarship Fund.
Each year, Pioneer Trails gives out a "wooden dollar" with each tree purchase. These are wooden coins, two inches in diameter, that customers can redeem on their visit to the Farm the next year and receive $1 off their tree purchase. The 2022 wooden dollar celebrates Frank and Mary Jan's newest grandson Walker who will be turning 1 on December 19th.
Although many of our customers from Ohio and Pennsylvania return each year to the Farm and redeem their wooden dollar for a dollar off their tree purchase, many other customers save the wooden coin as a keepsake of their memorable experience to Pioneer Trails Tree Farm. You can even make the coin into a homemade ornament! Just drill a small hole in the coin, pick your favorite color of ribbon, and you've got a unique addition to your Christmas tree! Need a wooden dollar from the first year your visited the farm? Wooden dollars from 1990 to 2021 can now be purchased at our Gift shop. They make great gifts too!
Our family works hard to create a magical, memorable experience for your family. We love sharing these experiences with our customers, new and old. We look forward to making new friends this Christmas season! Come visit Pioneer Trails Tree Farm, and "Start your Family Tradition!"